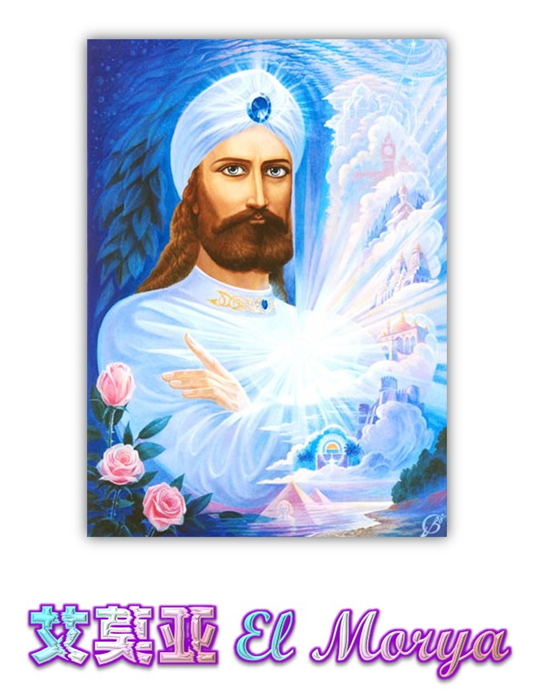 2019-12-31
Greetings My Beloved Masters of the Universe, the channeling that you are about to read comes to us from El Morya.
问候,我亲爱的大师们,你将要阅读的信息来自El Morya.
What we are trying to say to you dearly beloveds, is that the times ahead are prone to bring all of you to heights unimaginable prior to the opening of said magnanimous portals, to the biggest event in the history of your planet.
亲爱的,我们想要对你说的是前方的时刻会将你们所有人带到难以想象的高度,在已经述说的宏伟门户以及地球历史中最大事件开启之前
The biggest event that is about to take place on your shores, for in the coming days, and weeks much shall begin to transcend, change, transform, transition, transmute, release and leave your planetary system's energetic blueprints, or what is known in your world as the "aura of your planet".
最大的事件就要在你们的海岸上发生,在未来的几天、几周,很多东西会开始超越、改变、转变、过渡、转化、释放和离开行星系统的蓝图或者在你们的世界被称为"行星的光环"
For the energy that is about to arrive, that has indeed been slowly tapering into your consciousness is about to take its full and righteous place in your ethers and be brought through and grounded into your planet.
因为就要到来的能量,确实在慢慢地进入你的意识,就要在你的以太中充分拾起它的理应之地,并被带到和稳固于地球
The energy of Christ consciousness, the triangular degree of consciousness, the energy of peace, harmony, love, understanding, bliss, benevolence, light and love shall indeed bathe each and every one of you, each and every one presently occupying the time and space continuum on the energetic grid system, known as your earth, and speed up the ascension process, allowing many who have not been able to express their inner knowing and their true calling to step forward and release the information that is so very important for all of humanity.
基督意识的能量,意识的三角形,平和、和谐、爱、理解、祝福、仁慈、光与爱的能量应当沐浴你们每个人,每一个当前处于时间空间连续统的人(在被称为地球的能量网格系统中),会加速扬升进程,让许多无法表达自己内在知晓和真正呼唤的人向前一步,释放对所有人来说非常重要的信息
The information that we speak of is of course the workings of the universe, the truth of your origins, the truth of all that has been and all that is, and the truth of that which is yet to come.
我们所说的信息当然是宇宙的运作,你起源的真相,一切所是的真理,还未到来的事实
For in order for massive shifts to occur on your planet, those who currently are seen as "regulators, head figures and leaders" if you will, in your world, must release certain information that most on your planet are not yet aware of.
为了让巨大的改变在地球上发生,那些当前被视为"监管者、人物和领袖"的人,在你们的世界上,必须释放大多数人还不知道的某些信息
This Third Eye & Pineal 3-6-9 Disc has been created to assist you in activating your Third Eye & Pineal. When we activate the third eye, we can create or, more precisely, change our world and life into a whole new form. The third eye, which is considered the gateway to our soul, is also sometimes referred to as the "angel." Its discovery and activation mean that we are also beginning to see other, invisible worlds clearly. When we activate the third eye, we get the ability to perceive cosmic consciousness. This cosmic consciousness is a source of knowledge and wisdom that cannot be obtained by material means. According to popular belief, if the third eye is activated, we have the capacity for telepathy, we can see souls and spirits or even receive prophetic insights and visions from higher dimensions.
这个第三眼&松果体3-6-9圆盘被创造来协助你激活你的第三眼&松果体。当我们激活第三眼,我们可以创造或者,更准确地说,将我们的世界和生活转变成一个全新的形态。第三眼,被认为通往我们灵魂的大门,有时也被称为"天使"。它的发现和激活意味着我们也在开始清晰地看到其它无形的世界。当我们激活第三眼,我们能够感知到宇宙意识。这个宇宙意识是无法用物质方法获得的知识与智慧的源头。根据普遍的观点,如果第三眼被激活,我们就能够拥有心灵感应的能力,我们可以看到灵魂,甚至收到来自更高维度的预知洞见和景象